Talenti Lounge Sacco Outdoor Double Beanbag Sunbrella Coated
Brand: Talenti
Ean:
Description
Designer outdoor double beanbag by Studio Talenti
Original and eye-catching lines characterize every single product, suitable for a customer who likes luxury and elegance of Italian design. Covered in finest Sunbrella fabric and inner with quick dry foam spheres, the Sacco Outdoor Double Beanbag can be placed at the edge of a swimming pool or in a garden and can accommodate two people.
Talenti's style comes from Italian natural elegance characterized by a strongly contemporary design. Talenti's collections are created to be complete all outdoor spaces of the home from terraces and patios through to garden and pool area as well as providing furniture that's over-engineered and equally at home in upmarket cafés, restaurants and hotels.
Materials: Waterproof Sunbrella fabric.
Breathable, removable fabric, easy to wash and weather resistant.
Dimensions: W: 116cm x D: 136cm x H: 71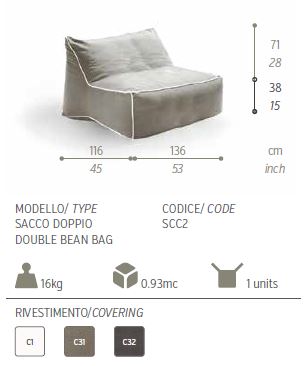 Delivery & Info
Delivery

1 - 2 weeks direct from Italy - These are ordered from Italy as you order them please phone us to check availability.
Estimated lead time is shown above. Delivery charges are calculated at the checkout.
Standard delivery: Our standard delivery is by courier from Monday to Friday and it includes small items like home accessories, lighting and small furniture. If these items are in stock, they are dispatched the next working day by next day delivery service.
Furniture delivery:Larger furniture is delivered by our small shipping partners using one or two men when required. The drivers will phone you in advance to arrange delivery time with you.